Little Cumberland Pre-school
Our Vision
To be a safe, happy and nurturing environment, inspiring our children to develop
their skills, confidence and enjoyment of life, and learning through our school's ethos
and learning values. Just like the school, our experienced and dedicated Pre-School staff take the time and effort to build strong relationships and work in partnership with all the children's families.
Thus ensuring their time at Little Cumberland Pre-School is a nurturing, happy, active – if somewhat messy, curious and enjoyable experience where all children's needs are met no matter what their starting points are.
About Little Cumberland Pre-school
For 27 years Get Set Go Nursery operated independently within the Cumberland
Infant School building and was run completely separate from the school.
Members of the Cumberland Infant School spent the summer of 2021 renovating the
two story room and outside area that was Get Set Go, for it to be ready to reopen in
September 2021 as Little Cumberland Pre-School.

From September 2021 Little Cumberland Pre-School is now integrated as part of
Cumberland Infants and provides high quality care and education to the families of
the Cumberland community and catchment area. It is run by the governing board,
headteacher, senior leadership team of the school and lead practitioner of the Pre-
School. The children range from 2 years to 4 years and they are often found all playing and learning together whatever their age.
Since October 2021, the Pre-School have their own outside area, which enables the
children free flow between in and out doors in all weathers.

They also have opportunities throughout the week to spend time in the school
garden, on the field, in the construction and physical development area, on the trim
trail and time on the range of bikes.
At Little Cumberland Pre-School they follow the same vision, Ethos and values as
the Cumberland Infant School vision.
Enjoying a Visit from Portsmouth Music Hub!
Click HERE for information about sessions, and to learn about the initial induction and a day in the life at Little Cumberland.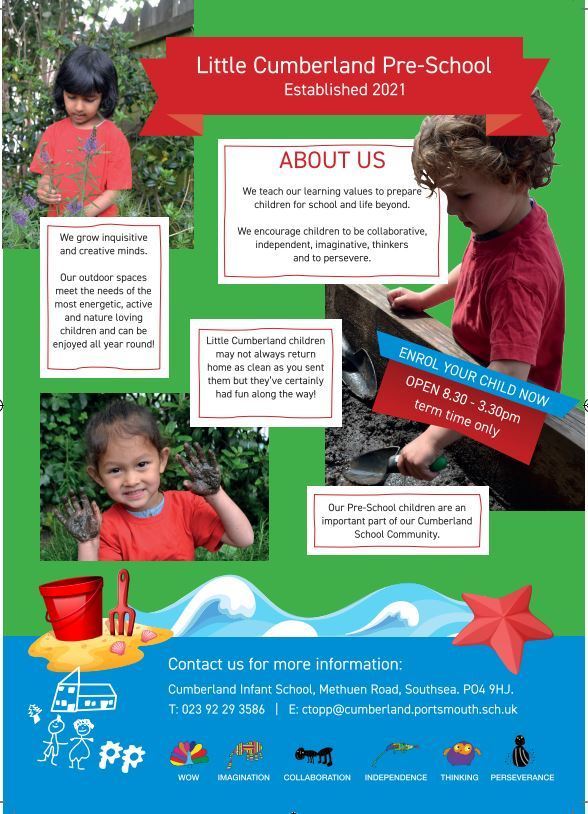 Please note that Little Cumberland Pre-school has a new telephone number 02392 293586. All new enquiries for pre-school can either call on the number above or email their preferred start date, their desired sessions and child's date of birth to ctopp@cumberland.portsmouth.sch.uk